Shanahan Law Group attorney Christopher S. Battles accepted into Leadership Raleigh program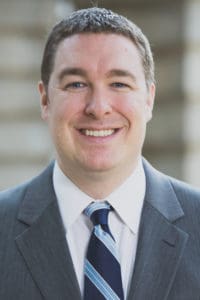 Shanahan Law Group attorney Christopher S. Battles has been accepted into the Greater Raleigh Chamber of Commerce's 40th Leadership Raleigh program. Leadership Raleigh is a nine-month program that gives participants an in-depth look into community issues, develops leadership skills and enables them to build relationships with community leaders and organizations.
"Shanahan Law Group is committed to making our community a better place as well as providing our team members with opportunities to grow professionally," said Brandon Neuman, Partner at Shanahan Law Group and a Leadership Raleigh alumnus. "Leadership Raleigh provides a tremendous opportunity to gain a deeper understanding of the issues facing our community and develop relationships with the leaders shaping its future, and we are excited that Chris will be a member of the next class."
Christopher Battles' practice includes complex corporate litigation, employment law, contract disputes, business torts, construction law, intellectual property, financial services and commercial arbitration. He has litigated cases involving the Civil Rights Act, the Servicemembers Civil Relief Act, federal and state trade secret law and the North Carolina Unfair and Deceptive Trade Practices Act. Battles also closely monitors major lawsuits and other developments in video game law. He frequently represents clients before the North Carolina Business Court and all three United States District Courts in the state. Battles has also practiced in the Supreme Court of North Carolina and the Court of Appeals of North Carolina. He has been named a North Carolina Super Lawyers Rising Star every year since 2014.