Dowdy-Ficklen Groundbreaking Ceremony at ECU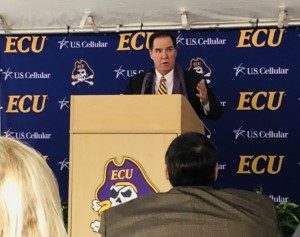 Greenville, N.C. – Groundbreaking ceremonies for East Carolina University's Southside Stadium Renovation Project were held Thursday, while construction crews worked in the background.
The project will add 1,000 premium seats to the southside tower, a new press box, and updates to the Ward Sports Medicine Building. Coming in at $60 million, the renovations are estimated to be complete before the 2019 football season.
Shanahan Law Group, PLLC Principal and ECU Board of Trustees Chairman, Kieran Shanahan gave remarks at the ceremony, alongside Chancellor Staton, Athletics Director Jeff Compher, Pirate Club Executive President Tim Martin, and Head Coach Scottie Montgomery. About the effect of the renovation, Shanahan said "We have a great product here and we will not settle for second best. The experience you are going to have when you come to East Carolina for football games is going to be unparalleled."
Shanahan Law Group, PLLC is a boutique law firm in Raleigh, North Carolina that offers a full range of litigation and business services. The firm's multi-faceted team of attorneys provide strategic advice to clients in numerous practice areas, such as complex litigation representing both plaintiffs and defendants, banking and financial institutions, commercial real estate, corporate governance, directors and officers litigation, insurance policyholder litigation, white collar defense and government representation. For more information, visit https://shanahanlawgroup.com.