Kieran Shanahan Elected as ECU Board of Trustees Chairman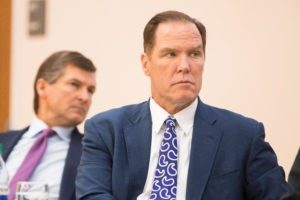 RALEIGH N.C. – Shanahan Law Group, PLLC is proud to announce that its founder Kieran Shanahan has been unanimously elected as Chairman of the East Carolina University Board of Trustees. Shanahan was first appointed to the Board in 2011 by the Board of Governors and then reappointed by Governor Pat McCrory in December 2014. Shanahan was elected Vice Chairman of the Board in July 2015.
Shanahan received a business degree, cum laude, from ECU in 1979 before attending UNC Chapel Hill Law School. Shanahan served on the Chancellor Search Committee that led to the hiring of ECU's current Chancellor, Cecil Staton. Shanahan and the Board will help implement projects such as the recently announced integration of ECU Physicians with Vidant Medical Group set to begin operations in 2018 and the Dowdy-Ficklen Stadium Renovation project.
"Being elected Chairman of the Board of Trustees is a humbling honor. We have an active and engaged Board that will act decisively to help ECU become America's next great national university," remarked Shanahan.
Shanahan Law Group, PLLC is a boutique law firm in Raleigh, North Carolina that offers a full range of business and litigation services. The firm's multi-faceted team of attorneys provide strategic advice to clients in numerous practice areas, such as complex business litigation, banking and financial institutions, commercial real estate, trust and estates, and government representation. The firm has offices in downtown Raleigh and North Raleigh. For more information, visit https://shanahanlawgroup.com.