NC Commission Submits Proposal to Modernize the State Judicial System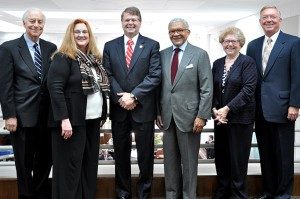 RALEIGH, N.C. – Judge William Webb, Senior Advisor to Shanahan Law Group, PLLC, collaborated as part of The North Carolina Commission on the Administration of Law and Justice (NCCALJ) to propose reforms aimed at strengthening and modernizing the North Carolina judicial system. The commission's final report was presented to Chief Justice Martin on March 15, 2017 during a ceremony at the Supreme Court of North Carolina.
The NCCALJ has been coordinating since May 2015 to evaluate the effectiveness of the current judicial system and generate recommendations to update the state's court system to better reflect the needs and public expectations of the 21st century. Chief Justice Martin appointed Judge Webb to the commission as the co-chair overseeing the inquiry into criminal investigation and adjudication. Regarding their proposal, the co-chairs wrote: "We are confident that the recommendations of the Commission will significantly improve the administration of justice in the courts of North Carolina and for the people of North Carolina."
In their report, the NCCALJ recommended plans for paperless courthouses, raising the juvenile age, reducing case delays, and assisting self-represented litigants. The commission volunteered more than 4,200 hours of service to this project researching, discussing, and gathering public input.
"We at Shanahan Law Group thank Judge Webb and the entire commission for their dedication to finding positive solutions for the challenges facing our state's judiciary," said Kieran Shanahan, managing partner of Shanahan Law Group.
Shanahan Law Group is a boutique law firm in Raleigh, North Carolina that offers a full range of business and litigation services. The firm's multi-faceted team of attorneys can design strategies for numerous practice areas, such as complex business litigation, banking and financial institutions, commercial real estate, trust and estates, and government representation. The firm has offices in downtown Raleigh and North Raleigh. For more information, visit https://shanahanlawgroup.com.
Learn more about the NCCALJ report here: https://nccalj.org/nccalj-presents-final-report-to-chief-justice-martin/
Read the full report here: https://nccalj.org/wp-content/uploads/2017/pdf/nccalj_criminal_investigation_and_adjudication_committee_report.pdf