Shanahan Law Group Attorney Christopher Battles elected Treasurer of N.C. Bar Association's Litigation Section Council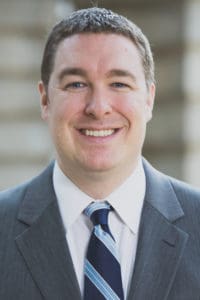 Shanahan Law Group, PLLC Associate Christopher Battles was elected treasurer of the North Carolina Bar Association's Litigation Section Council during the section's annual meeting on June 19, 2020. Battles recently completed his first full year as a member of the Council.
"Chris Battles is a capable, accomplished litigator, and he has much to offer to the Litigation Section," said Brandon Neuman, partner with Shanahan Law Group. "We are pleased to see his efforts recognized with this important leadership role."
"I've had a great experience so far working with the Litigation Section Council and outgoing Chair Alan Parry," said Battles. "I'm honored to step into a leadership role and continue serving and advancing the legal profession."
Battles joined Shanahan Law Group in 2011 after graduating from the Duke University School of Law. His practice is focused primarily on complex corporate litigation, but he has experience in a wide range of practice areas including employment law, class action, construction law, intellectual property, commercial arbitration, financial services and video game law.
The North Carolina Bar Association (NCBA) is a voluntary statewide organization of lawyers, judges, paralegals and law students. NCBA provides continuing legal education (CLE) programs, legislative advocacy, practice support and service and networking opportunities. The Litigation Section is one of the largest sections in the NCBA and includes both plaintiff and defense attorneys and judges among its members. For more information, visit https://www.ncbar.org